November 12, 2013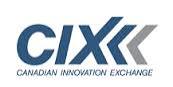 Canadian Innovation Exchange Announces Canada's 20 Hottest Innovative Companies.  CIX Top 20 showcases Canada's elite in Information and Communication Technology and Digital Media.
Chosen by an expert panel of innovation leaders, 20 technology companies were selected from across Canada.  Companies selected were chosen by a committee made up of leading experts from major corporations, entrepreneurs, and investors. Companies were judged on a number of key factors including: product/service offering, depth of management, market opportunity and business model.
The 2013 CIX Top 20 are:
360incentives
Atomic Reach
Axonify
Bionym Inc.
Breather
Busbud
CogniVue Corporation
eSentire
Fabric Software
Hubba
Launchpad
Open Care
Plotly
Procurify
Rithm
Seamless Health Mobile
Smart Skin Technologies
SqueezeCMM
TruCentric
Upverter
For more information about the Canadian Innovation Exchange, visit: http://www.canadianinnovationexchange.com/
 About Canadian Innovation Exchange
Taking place November 21st, 2013 at MaRS Discovery District in Toronto, the Canadian Innovation Exchange (CIX) is the foremost destination for key leaders in the innovation economy to learn from one another, explore new relationships and accelerate the development of the ground-breaking technologies, products and services propelling the Canadian economy into the future. This one day forum attracts the people behind innovative new technologies – entrepreneurs, investors, corporations, service providers, government, and media – for an unparalleled program of visionary keynotes and panel discussions, facilitated networking opportunities, and the CIX Top 20 – a showcase of Canada's hottest innovative companies working in Digital Media and Information and Communication Technology.www.canadianinnnovationexchange.com
Louis Rhéaume
Editor, Infocom Analysis
louis@infocomintelligence.com