Apple
May 30, 2014
Brought to you by financesonline | David Adelman | See our Youtube
Louis Rhéaume
Infocom Analysis
louis@infocomintelligence.com
Twitter:@InfocomAnalysis
April 29, 2014
Here is an interesting infographic by Financesonline.com : 

Brought to you by comparisons.financesonline.com | Author: David Adelman | Visit our LinkedIn
Louis Rhéaume
Infocom Analysis
louis@infocominteligence.com
Twitter: @InfocomAnalysis
November 4, 2013
Apple is by far the world leader in customer accounts with 600 million accounts  (iPod, iPhone, iPad or iTunes).  Amazon, the biggest e-commerce company in the world only has 224 million accounts. Twitter, a free and popular web service, doesn't have 600 million users. Yahoo, which is one of the most popular websites in the world has ~700 million monthly users.  Apple will continue to drive its profitability in the long-term from its huge users' base.
Read more: http://www.businessinsider.com/chart-of-the-day-apple-has-600-million-accounts-blowing-away-every-other-company-2013-11#ixzz2jibS34AL
Here is a graph from BI Intelligence.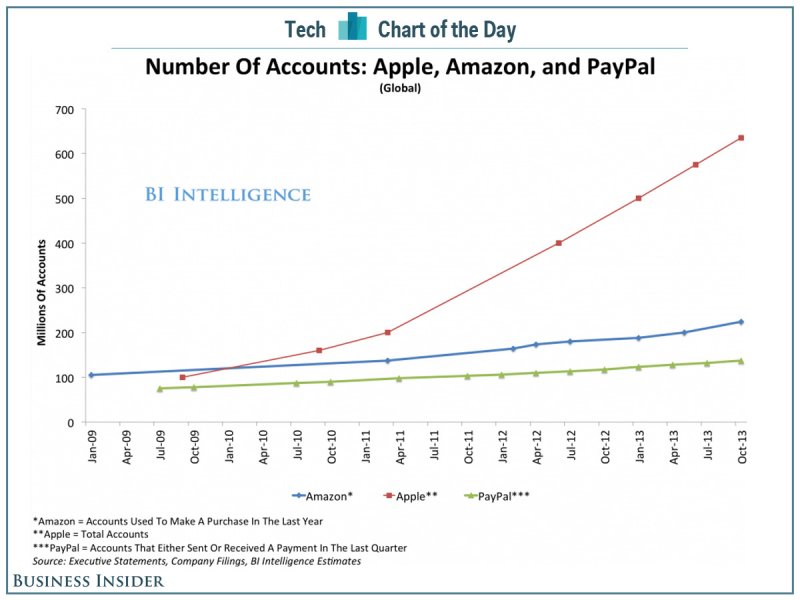 Louis Rhéaume
Editor, Infocom Analysis
louis@infocomintelligence.com
October 17, 2013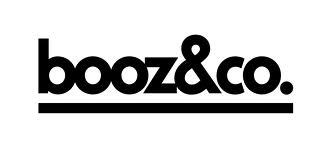 Here are some of the key highlights from the 2013 Booz & Company's Global Innovation 1000:
The top 5 industries spending the most on research and development are:
Computing And Electronics (27% of spending worldwide )
Healthcare (22%)
Auto (16%)
Industrials (10%)
Software and the Internet (8%)
The biggest growth comes from Software and Internet with an increase of 22% in the last year, followed by telecom (21%).
The biggest annual growth comes from the region of China (36%).
An important new trend is investment in research and development  toward digital enablers  (8% of total R&D in procurement, deployment and support of digital enablers).
Top 10 most innovative firms
Apple
Google
Samsung
Amazon
3M
GE
Microsoft
IBM
Tesla Motors
Facebook
Louis Rhéaume
Editor, Infocom Analysis
louis@infocomintelligence.com
October 12, 2013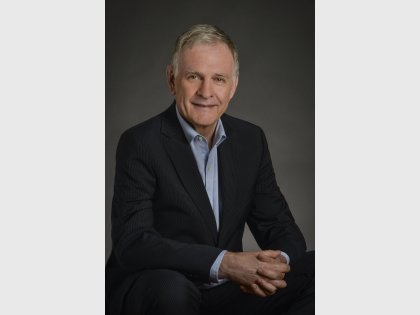 Marcel Côté, l'un des principaux spécialistes de l'innovation au Québec  et actuel candidat à la mairie de Montréal nous donnait une entrevue il y a un an (réalisé pour Techvibes et Les News).
Marcel Côté croit qu'une startup au Québec aurait intérêt à lancer son application rapidement, même si elle n'est pas bien rodée, afin d'en évaluer rapidement sa popularité. C'est ce qu'a déclaré le cofondateur de SECOR, (acquis l'an passé par KPMG) au cours d'un entretien à la suite de la parution de son livre Innovation Reinvented.
Depuis 35 ans, Marcel Côté est un expert en stratégie de gestion pour les entrepreneurs, les grandes entreprises et les gouvernements. Il a été notamment conseiller économique de plusieurs premiers ministres du Canada et du Québec.
Son livre, qu'il a réalisé avec son partenaire Roger Miller, s'inspire d'une étude intitulée MINE (Managing Innovation in the New Economy), qui a duré près de 10 ans et portait sur l'analyse des pratiques innovatrices dans les entreprises.
Les succès sont parfois éphémères dans le milieu technologique. Est-il raisonnable de croire qu'une plateforme comme Facebook peut avoir du succès longtemps quand son prédécesseur (MySpace) a eu du succès pendant moins de 5 ans?
Je crois Facebook est probablement sur son déclin. De plus en plus de ses utilisateurs deviennent  passifs et de moins en moins actifs, du moins chez les individus. Facebook est d'ailleurs en voie de migration vers les entreprises. Plusieurs fournisseurs de jeux se développent à l'extérieur de Facebook – par exemple, Zynga – parce qu'ils n'aiment pas leur modèle d'affaires qui est trop cher. Facebook dans sa forme actuelle [entrevue réalisée en octobre 2012] ne résistera pas à long terme, à mon avis, et ses  limites deviennent de plus en plus apparentes. À mon avis, Facebook tel qu'on le connaît actuellement ne pourra survivre d'ici 10 ans.
Microsoft était dans une situation similaire, il y a 20 ans, avec son système d'exploitation, qui dominait le marché des ordinateurs personnels. Aujourd'hui, ce système est en train de perdre plusieurs parts de marché, tout comme leur fureteur Explorer. C'est difficile de demeurer dominant dans ces batailles d'architecture. Il n'y a véritablement que dans les consoles que Microsoft a eu du succès récemment.
Google est un autre cas intéressant. Son architecture s'est imposée dans les engins de recherche. Plus tard, Google a fait l'acquisition stratégique de YouTube, ce qui a amélioré sa plateforme.  Google cherche activement à se diversifier, même s'il domine largement le secteur des engins de recherche  Android n'est pas (très) payant. Ils n'ont actuellement que Google Maps et YouTube comme autres produits.
Une stratégie gagnante est d'aller chercher des produits et services complémentaires pour bâtir son écosystème. C'est ce qu'a fait Apple avec iPod, iTunes et  iPhone. Comment une PME peut y parvenir?
L'objectif est de chercher des bénéfices conjoints, une application plus une plateforme. Les applications doivent évoluer avec la plateforme, sinon, elles ne dureront que quelques années au plus. Apple a connu un succès mitigé initialement avec l'iPhone,  malgré son design cool : environ 6 millions de ventes à sa première année. C'est juste quand Apple a transformé iTunes pour en faire  l'App Store qu'Apple a pu tirer le plein potentiel du iPhone, en développant  son écosystème mobile. C'est alors que les ventes du iPhone ont décollé. Ironiquement, ce sont les développeurs d'applications qui ont découvert qu'un iTunes modifié pouvait distribuer des applications pour l'iPhone et qu'ils ont convaincu Steve Jobs de le faire. Ce sont eux qui les premiers, ont vu le grand potentiel du App Store.
Pour une PME, je dirais qu'il faut se souvenir de la règle 10-90 : 10 % des applications au plus génèrent plus de 90 % des revenus. Beaucoup d'appelés, très peu d'élus. Donc, il faut lancer rapidement votre application, même si le produit n'est pas parfait, afin de la tester rapidement. La première version doit miser sur la nouveauté plus que la perfection. On découvre alors si le concept est porteur, et le cas échéant, on peut le vendre et l'améliorer rapidement car il est évident que si c'est un succès, il y aura des imitateurs. Il faut aussi tabler sur le momentum des plateformes en croissance.
Avez-vous un conseil pour les entrepreneurs qui veulent s'attaquer à un marché des TIC?
À Montréal et au Canada, il est préférable d'aller du côté des applications. À  Montréal, nous sommes plus exposés aux influences et aux concepts européens et on est plus ouverts aux influences étrangères. C'est une grande source de créativité. De plus, développer et lancer une application n'exige pas beaucoup de capital. C'est le contraire avec une nouvelle plateforme, qui peut prendre jusqu'à 5 ans avant d'atteindre le seuil de rentabilité.  Une nouvelle plateforme  peut exiger de 30 à 50 millions de dollars en investissements avant d'être capable de générer des flux monétaires positifs. Nous n'avons pas les firmes de capital de risque ici au Canada pour envisager de tels investissements.
Prenez l'exemple de Zynga. À l'origine, Zynga a adapté le concept d'un jeu existant pour créer Farmville, qui a connu un très grand succès sur la plateforme Facebook. Mais pour chaque Farmville, il y a 1 000 échecs ou demi-succès sur Facebook. Maintenant qu'il est bien établi, Zynga cherche aussi à prendre ses distances face à Facebook, pour réduire sa dépendance sur leur modèle d'affaire trop couteux (30% des revenus), et il cherche à développer sa propre plateforme de jeux sociaux.
Marcel Côté est détenteur d'une maîtrise en sciences économiques de l'Université Carnegie Mellon (Pittsburgh, Pennsylvanie, 1969) et d'un baccalauréat en sciences physiques de l'Université d'Ottawa (1966), il a de plus reçu le titre de Fellow du Weatherhead Center for International Affairs de l'Université Harvard (1986).   Il est impliqué dans le développement économique de Montréal depuis 40 ans, dont le projet de Quartier de l'Innovation de Montréal en collaboration avec l'ÉTS et McGill.
Louis Rhéaume
Éditeur, Infocom Analysis
louis@infocomintelligence.com
October 6, 2013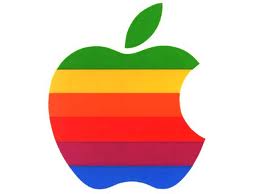 Selon le président de Forrester Research, George Colony, Apple sera le prochain Sony. La compagnie qui a créé des inventions remarquable comme le Walkman ou la TV Trinitron, est maintenant devenu une société moribonde qui innove peu et a une rentabilité médiocre.  Les critiques de Forrester Research disent que cette firme de recherche fait bien des prédictions qui s'avèrent non véridiques quelques années plus tard.  Je crois qu'on peut mettre dans cette catégorie la prédiction qu'Apple va égaler Sony.  Colony cite un livre de Max Weber pour expliquer qu'Apple devient trop bureaucratique et traditionnelle et a besoin désespérément d'un leader super-héros comme au temps de Steve Jobs.
Pourtant bien des compagnies ont survécu à la mort d'un président super-héros.  Disney s'est diversifié intelligemment après la mort de Walt Disney.  Pour le moment Apple domine largement les profits du marché du téléphone intelligent, de la tablette et du lecteur MP3.  Pour soutenir cet écosystème, iTunes et l'Apple App store sont de véritables vaches à lait.  Apple est reconnu comme la firme la plus innovante au monde.  Est-ce dû uniquement à cause de Steve Jobs? Non, il faut une excellente équipe pour réaliser ces exploits. La force du modèle d'affaire d'Apple est qu'il est intégré verticalement.  Apple contrôle le matériel (hardware), les logiciels et les produits complémentaires (Apple App Store et iTunes).  Apple est un de mes titres boursiers favoris en technologie dans mon portefeuille. Si on enlève l'encaisse et les prochains dividendes, le titre se transige quand même à un cours-bénéfice très bas.  Un titre qui  possède un potentiel à la fois de valeur et de croissance.
Louis Rhéaume
Éditeur, Infocom Analysis
louis@infocomintelligence.com
August 2, 2013
A recent infographic by FinancesOnline explains the iPhone 5 supply and manufacturing chain. It appears that manufacturing at Apple is really global.
Louis Rhéaume
Editor, Infocom Analysis
louis@infocomintelligence.com
June 8, 2013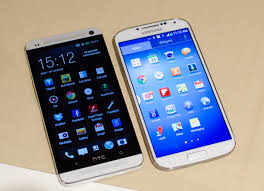 Venture capitalist Marc Andreessen is known to have popularize the sentence: "Software is eating the world". Thus, some start-ups based on a new software are  disrupting whole sectors, like AirBnb with the hotel industry.
Benedict Evans, an Internet Analyst, has come up with a new report with the title: "Mobile is eating the world".  He has some interesting conclusions that
mobile is now changing everything,
the technology and mobile sector are converging
tablet growth is accelerating quickly
The whole presentation is available at:  http://fr.slideshare.net/bge20/2013-05-bea
Louis Rhéaume
Editor
Infocom Analysis
June 3, 2013

Source: Infographic by Top Apps

Louis Rhéaume
Editor
Infocom Analysis
March 26, 2013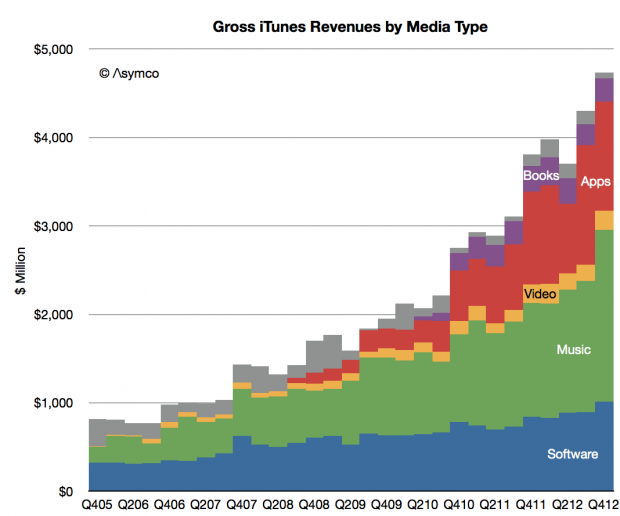 Asymco reports that iTunes is no more just a platform that drive hardware revenues for Apple.  In fact, iTunes is actually performing very well and is profitable with the help of the growth in software revenues: over $2 billion a year.  Music, Video, Apps and Books are also performing well.
"iTunes store will be 10 years old next month. From its inception Apple has stated that it aims to run the store "at break-even". Â The business has grown so rapidly however that its profit-free nature has come under severe pressure.  The reasoning goes that as more media types have been added costs have increased but revenues have increased even faster… What is known as iTunes today has quintupled in seven years. Although cost of content sales are likely to have been preserved as a ratio (about 30%) the vastness of transaction volume (estimated at 23 billion item transactions in 2012 alone) implies that there are some significant economies of scale. This implies that the operating costs are spread more evenly and that therefore the possibility exists for some operating margin.Put another way, at break-even the cost of operating iTunes stores would be about $3.75 billion. "
Louis Rhéaume
Infocom Analysis
louis@infocomintelligence.com
Twitter: @InfocomAnalysis