Blackberry
June 3, 2013

Source: Infographic by Top Apps

Louis Rhéaume
Editor
Infocom Analysis
April 20, 2012
What is Mobli?  Here is an answer from their web site.
Mobli is a real-time visual media platform made up of subject-based channels such as people, places and topics. Mobli enables users to see the world through other people's eyes. There's no doubt that social media has taken the world by storm. However, let's face it, social media was born in a pre-smart phone era. Mobli has created a website integrated to iPhones, Android & Blackberry apps that unlock the power of social media!
Mobli unlocks the hidden potential of social media by leveraging the power of smartphones, enabling people to quickly and easily share & experience events via high-quality videos and photos uploaded on-location and in real-time.  With the integration of channels and geo-location, Mobli enables people to share their special occasions, experiences or interests, with communities of individuals who will appreciate them.
For example, concert-goers, celebrity fans, wedding attendees, car enthusiasts and families can all share pictures and videos of an occasion, experience or interest with like-minded communities.
Thus, Mobli is an alternative to Instagram, with its ability to share pictures but also videos with friends and strangers. The service of course has filters and powerful editing tools, but what's cool about Mobli is that users can share their pictures out to various channels that are open to the world. So even if you don't have any friends on the service – a big barrier for any social service — you can still get good feedback from people interested in the same topics. You can create any kind of channel from the desktop version, a feature that is coming soon to mobile. Or you can find relevant channels or see what's being shared around you. The service, which has 2.5 million users, has raised more than $4 million from some well known investors including Leonardo DiCaprio.
Mobli is available on iPhone, Blackberry and Android.
Louis Rhéaume
Infocom Intelligence
louis@infocomintelligence.com
Twitter: @InfocomAnalysis
March 27, 2012
[Published originally on WEDNESDAY, FEBRUARY 23, 2011]
March 27, 2012
[Published originally on SUNDAY, NOVEMBER 07, 2010]
It appears that RIM web usage is growing, which is not the case of Apple's iPhone OS web usage. In fact, Blackberry users have 
doubled
 their Web presence over the course of the past year.
The data is from Statcounter:
Although the chart clearly shows Android's rise in terms of Web usage, it surprisingly shows Blackberry's increased market share, too.
It appears that RIM should not be discarded as as serious contender in the corporate and consumer sector. However, increased Web usage only shows that RIM users are doing more mobile Web surfing, not necessarily that the platform as a whole is making a comeback, but the new Blackberry OS (
version 6
), available now on the 
Blackberry Torch
, offers a much-improved Web browser based on the open-source WebKit technology, the same technology that's used on the iPhone and on Android. Thus, we can expect more Blackberry devices in the future, and Blackberry users' Web usage will certainly grow even more.
For developers targeting Blackberry users with mobile websites or services as opposed to native applications, this increase in browsing are good news. But if you're looking to get the most return on investment for your native applications, you still need to look at the raw 
numbers
 of native application users on the top mobile platforms.  Android has the biggest momentum and most attractive ROI per app.
Louis Rhéaume
Infocom Intelligence
louis@infocomintelligence.com
March 27, 2012
[Published originally on SUNDAY, OCTOBER 17, 2010]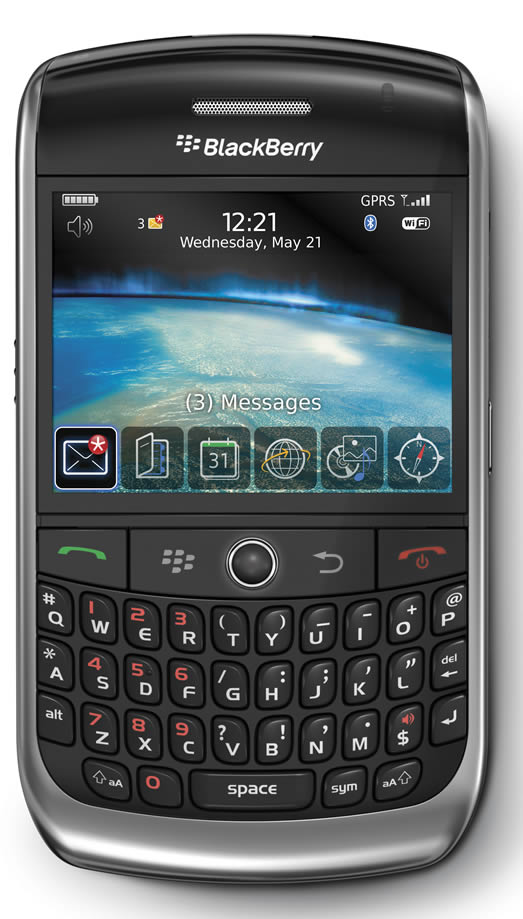 Here are some great Blackberry applications:
Opera Mini
The default Blackberry mobile browser is bad. Thus, Opera Mini offers a better navigation experience.
The first page is similar to a Google Chrome page with mini windows of few popular websites.
Google Maps
You can use this application to know the right direction, see your location and watch traffic. You can also use this app to get maps in satellite view.
Blue Mobile
Blue Mobile app offers to track customizable portfolios, watch lists, and every major market. It is an interesting financial application.
Slacker Radio
This app offers an extensive assortment of genres including Blues, Classical, Hip Hop, Jazz and Comedy — each with numerous individual channels. Slacker also allows users to customize stations, store favorites and recently played selections, and – of course – search for specific tunes and artists. For listeners more interested in popular songs and themes, Slacker Spotlight and Top Stations both keep up with current trends.
Poynt
Poynt offers GPS location-based services. Local weather, and different sub-categories such as: People, Businesses, Gas Prices (vicinity and price), Restaurants (with an impressive list of cuisines and themes) and Movies (by location or specific film). They also can guide users to local eateries, theaters and hotspots, with an indication on a mobile map. Poynt offers easy information sharing, including the maps and directions, through both e-mail and popular social networking services.
Mobipocket Reader
You can read eBook titles and as well as download books on your mobile phone. Mobipocket Reader supports .Mobi format. This application can help while researching on some depth of any topic.
Capture It
The application capture images of BlackBerry's screen and then saves them as .jpg file format for your ease while transferring the image. .JPG format saves file in less Kilobytes.


ISkoot
You can use this application to send and receive voice calls to and from Skype users. The application offers instant messaging function to its users.
Beyond 411
You can use the application to look up business listings and know about the driving directions. Beyond 411 gives right direction about various locations. It is a mere traffic or route helper application.
Blackberry Appworld
You can browse many other Blackberry apps through this application. It is all about different applications of blackberry smart phones.
Louis Rhéaume
Infocom Intelligence
louis@infocomintelligence.com
March 27, 2012
[Published originally on TUESDAY, OCTOBER 12, 2010]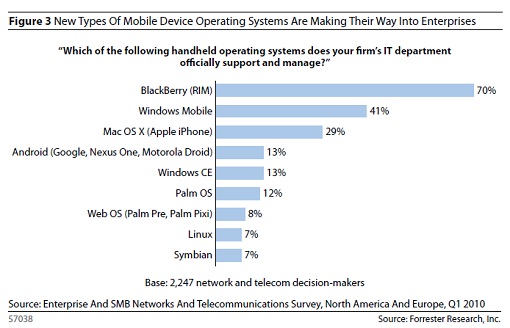 Blackberry is still the most popular operating system (OS) platform for smartphones around the world with a presence in around 70% of firms in North America and Europe in Q1 2010. However, among consumers and business smartphones users, RIM is also the leader but is challenged by the growth of Android of Google.  Even though Apple experienced fast growth with its iPhone, they lost a bit of market share between May and August this year.  Finally, Microsoft just announced the launch of Windows phone 7 which resemble Android http://news.yahoo.com/s/ap/20101011/ap_on_hi_te/us_tec_microsoft_phones
Louis Rhéaume
Infocom Intelligence
louis@infocomintelligence.com
March 27, 2012
[publié originalement le 19 janvier, 2010]
Quel fournisseur va gagner la bataille du marché affaires?
Il semble que le marché de consommation a déjà fait un choix et c'est Apple qui l'emporte dans cette catégorie. Lancé avec une campagne agressive de marketing en 2007, le iPhone a vu des milliers de fournisseurs complémentaires s'allier à Apple, développer des applications et surpasser après 8 mois d'existence le nombre d'applications du Blackberry. Certes beaucoup de ces applications sont inutiles mais quelques-unes sont très intéressantes. Elles ont donné du momentum au iPhone pour gagner le segment des consommateurs.
Aujourd'hui, la question se pose qui va gagner le marché du segment affaires le Blackberry ou le iPhone? Il faut se rappeller que Netscape était le numéro un du fureteur Web et Sony Betamax le premier enregistreur vidéo. Une des principales raison du succès d'Internet Explorer est qu'il est pré-installé avec les nouveaux PC. Une des principales raisons du succès de VHS sur Betamax est la capacité d'enregistrement de 4 heures de VHS comparé à 2h pour Betamax à l'époque. Les 2 "challengers" ont profité d'effets de réseaux et du levier de joueurs complémentaires pour obtenir le momentum et déloger le numéro un qui détenait pourtant près de 80% du marché à lui seul.
Le Blackberry est présentement numéro un dans le segment affaires parce qu'il a démontré des avantages notables dans la production de courriels, la facilité d'utilisation, la sécurité et le support TI dans les entreprises. Le Blackberry profite présentement d'un écosystème de fournisseurs complémentaires comme Microsoft ActiveSync, Bloomberg, Oracle, Cognos. Certains diront qu'il manque au iPhone un clavier comme le Blackberry. Le Blackberry est offert avec plus de 200 opérateurs de cellulaire.
L'empire contre-attaque
En moins de 3 ans, le iPhone a déjà remporté la bataille du segment consommateurs.
Apple a appris de l'expérience du iPod et de la nécessité d'avoir un écosystème très fort pour supporter l'innovation. Les employés demandent de plus en plus du support dans les entreprises pour leurs appareils iPhone. Plusieurs croient que d'ici 2-3 ans, le iPhone deviendra le numéro un des nouveaux appareils intelligents dans le segment affaires. Déjà dans certaines industries dont le marché de détail ou la santé, il a un avantage comparatif marqué à cause du modèle des applications. Apple devra se battre pour améliorer la couverture réseau disponible de ses appareils à travers le monde, la durée de sa batterie, et la sécurité de son réseau dans les entreprises. Il y a maintenant 35 M de iPhone dans le monde, lancé en juin 2007. Le iPhone devient un appareil critique pour la collaboration, le partage et la possibilité de concevoir des applications mobiles sur mesure pour la firme pour soutenir un avantage stratégique comparatif.
Les applications du Blackberry sont très coûteuses à développer et maintenir. Le iPhone permet une meilleure collaboration entre les fonctions administratives de l'entreprise. Cela engendre des nouveaux modèles d'affaires pour des applications Business-to-Consumer en terme de ventes, support et service.
Apple a percé le marché des ordinateurs personnels d'abord dans le segment affaires et après dans certaines industries le segment affaires (infographie, vidéo, etc). Cette fois-ci avec le momentum et un écosystème fort, Apple s'attaque maintenant sérieusement au marché affaires des téléphones intelligents.
Louis Rhéaume
Infocom Intelligence