mobile internet
June 3, 2013

Source: Infographic by Top Apps

Louis Rhéaume
Editor
Infocom Analysis
March 11, 2013
Adobe just released a new study analyzing more than 1 billion visits for more than 1,000 websites and found that 8% of traffic came from tablets. That traffic ranks ahead of the 7% of visits that came from smartphones.  However, 85% or so percent of Web traffic still coming from desktop PCs and laptops.
Fewer tablets ARE in circulation in the world compared to the vast proliferation of smartphones.
The United Kingdom has the highest percentage of tablet traffic, with 12.2% of views, while China had the lowest at 3.1%.
Mobile devices represent nearly one out of every six website pageviews and this trend is growing quickly around the world.
Louis Rhéaume
Infocom Analysis
louis@infocomintelligence.com
Twitter: @InfocomAnalysis
January 28, 2013
Here is an interesting infographic on the growth of mobile commerce by Yesmail Interactive.

Louis Rhéaume
Infocom Analysis
louis@infocomintelligence.com
Twitter: @InfocomAnalysis
September 25, 2012
EBay has a huge momentum in mobile commerce with over 100M App downloads and 100M items listed, since its launch four years ago. According to All Things Digital:
"That's equal to the number of the service's active users — those who bought, listed or sold something on eBay last year. The company is not saying how many of those downloaded apps are used regularly, but by at least one measure, activity is fairly high — users have now listed 100 million items to its marketplace using the eBayapp, by taking a picture of the item with their phone and uploading all the data within minutes.
While many other companies are fretting about how they will make money from mobile, roughly 16 percent of eBay's revenue this year will be coming from mobile devices. While that's still a fairly small percentage, that number has doubled in just the past year.

Steve Yankovich, eBay's VP of mobile, said the average transaction on eBay's mobile apps runs between $30 and $45, in contrast to companies that sell 99-cent mobile games or virtual goods. On the high end, he notes that more than 9,000 cars are sold every week through the app, some of which are priced above $100,000."
Yankovich refers to mobile commerce as"situational shopping." When a person has free time while waiting, this person can be a consumer for that precise moment.
EBay previously forecasted that it would hit $10 billion in revenue on mobile this year. Based on last year's gross merchandise volume of roughly $60 billion, that works out to 16 percent of the company's revenue.

Source: http://allthingsd.com/20120924/ebays-mobile-momentum-100m-app-downloads-100m-items-listed/?utm_source=Triggermail&utm_medium=email&utm_term=Mobile%20Insights&utm_campaign=Post%20Blast%20%28sai%29%3A%20BII%20MOBILE%20INSIGHTS%3A%20Be%20Brilliant%20At%20The%20Mobile%20Marketing%20Basics
Louis Rhéaume
Infocom Analysis
louis@infocomintelligence.com
Twitter: @InfocomAnalysis
June 22, 2012
According to Mary Meeker, partner at Kleiner Perkins, the magnitude of upcoming Internet changes will be stunning: "We are still in spring training".  She suggests those Internet trends:
Nearly Ubiquitous High-Speed Wireless Access in Developed Countries
Unprecedented Global Technology Innovation
Ultra Competitive Markets for Mobile Operating Systems + Devices
Broadly Accepted 'Social Graphs' / Information Transparency
Fearless (& Connected) Entrepreneurs
Difficult 'What Do I Have to Lose' Economic Environment for Many
Available (& Experienced) Capital
Fearless (& Connected) Consumers
Inexpensive Devices / Access / Services (Apps)
Ability to Reach Millions of New Users in Record (& Accelerating) Time
'Social Emerging as Starting Distribution Point for Content,' (Brian Norgard, Chill)
Aggressive (and Informed) 'On My Watch' Executives at 'Traditional' Companies
Unprecedented Combo of Focus on Technology AND Design
Nearly 'Plug & Play' Environment For Entrepreneurs – Marketplaces / Web Services / Distributed Work / Innovative Productivity Tools / Low 'Start Up' Cost
Beautiful / Relevant / Personalized / Curated Content for Consumers
It appears that the historical wealth creation in tech companies has been very concentrated.  Thus, around just 2% of companies in tech IPOs accounted for around 100% of net wealth creation in the 1,720 Tech IPOs in USA, for the period 1980-2002. Source: The Technology IPO Yearbook: 9th Edition – 23 Years of Tech Investing, Morgan Stanley.  Thus, picking winners in tech IPO is very uncertain. 
Internet and mobile advertising
Internet ad spending represents around 22% of total ad spend. It is catching up with time spent online, 26% of total media time. That ratio is fairly comparable to old mediums like TV (43/42) and Radio (15/11). However, the discrepancy time spent on mobile online with mobile advertising is still huge (10 vs 1%).  According to Meeker, there is a $20B+ opportunity just in USA both for Mobile and Internet advertising.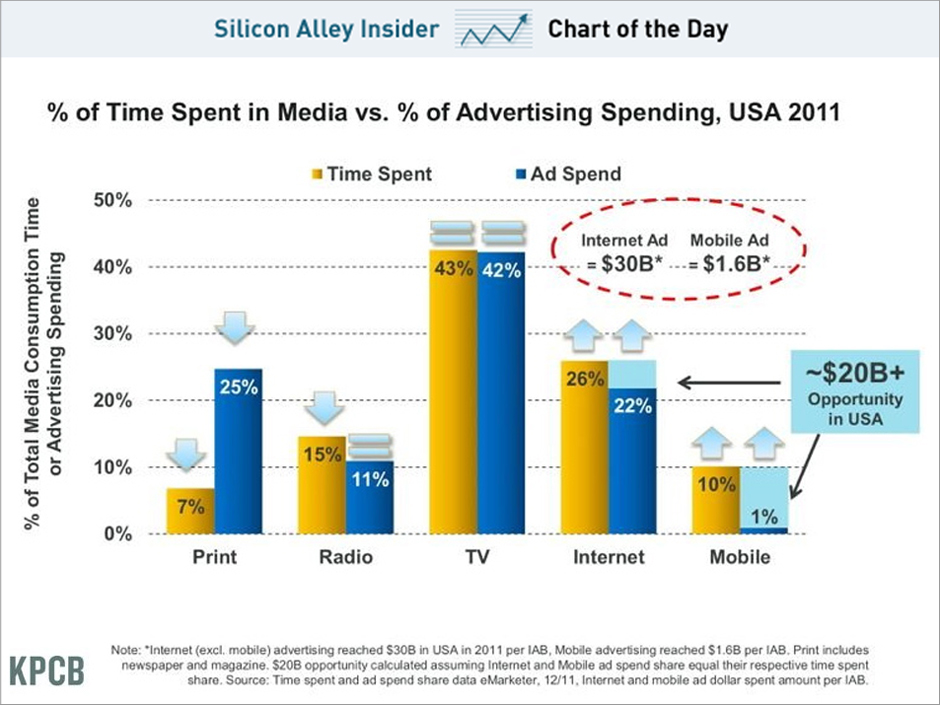 Internet advertising revenues for the first quarter of 2012 set a new record for the reporting period at $8.4 billion, according to the latest IAB Internet Advertising Report from the Interactive Advertising Bureau (IAB) and PwC U.S. It is the highest first-quarter revenue ever measured by the IAB and PwC and a $1.1 billion–or 15 percent increase–over the $7.3 billion figure reported in the first quarter 2011.
"More online consumers than ever are taking to the internet to inform and navigate their daily lives—by desktop, tablet or smartphone," said Randall Rothenberg, President and CEO, IAB. "Marketers and agencies are clearly–and wisely–investing dollars to reach digitally connected consumers."
"Digital media captures consumers' imaginations, and marketers increasingly turn to interactive advertising to successfully speak to their customers," said Sherrill Mane, Senior Vice President, Research, Analytics & Measurement, IAB.
"The year-over-year growth between Q1 2011 and Q1 2012 sets quite a milestone," said David Silverman, Partner, PwC U.S. "Moreover, a 15 percent increase over the comparable period in 2011 is a solid affirmation the internet is delivering on its promise to attract consumers and the advertising dollars that follow."
The following chart tracks first quarter ad revenue since 1996; dollar figures are rounded.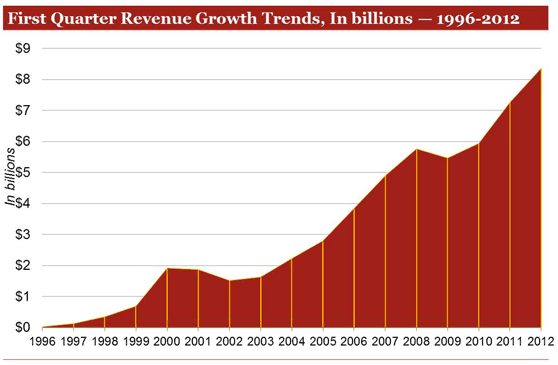 Who could benefit from this $20B+ opportunity in the USA?
I can name some three important players: Google (GOOG), Milllennial Media (MM) and Facebook (FB).
Those firms are offering Beautiful / Relevant / Personalized / Curated content for consumers through tailored advertising, on both fixed Internet and mobile Internet.
Those advertisers can play the role of efficient infomediation players.
Millennial Media just had its first public quarter.  The price of the stock is down 67% from day 1 of the techy IPO.
Google has an attractive P/E ratio of 17X and has around 90% of its revenue from advertising.  Google is largely dominating mobile search with a market share above 95%.
Facebook stock is up 20% in the last 2 weeks. For the potential and challenges of Facebook you can see this Seeking Alpha article.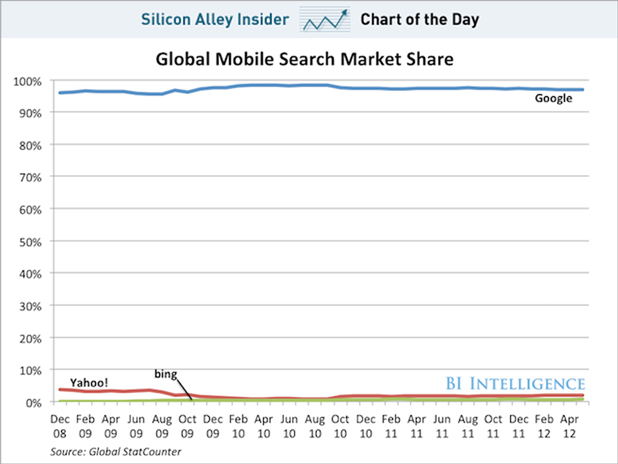 Louis Rhéaume
Infocom Intelligence
louis@infocomintelligence.com
Twitter: @InfocomAnalysis