March 18, 2013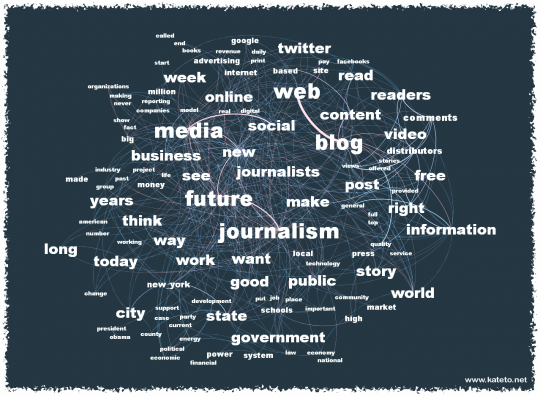 The Pew Research Center today released the 2013 State of Journalism in America.  The popularity of the printed press and the radio is in decline, while online media, on the other hand, is experiencing fast growth.
39% of respondents said that they saw their news yesterday from a mobile device, versus 34% in 2010.   When one takes into account all digital devices, the figure is 50%, second only to watching the news on television.  Traditional media are in decline for those who say that their source of information is the radio  (just 33%) or the newspaper (29%). There is a growing online audience  reporting that they get their news from social networks (19%), 16% by email and 8% from podcast.
The rapid growth of online information is impressive, according to the study, mainly due to access to mobile devices (31% of adults have a tablet, and 45% own a smartphone, ten points more than a year ago). More than 60% of the mobile device owners, (whether a tablet or smartphone) watch the news on these devices at least once a week, and 36% even watch the news on a daily basis.
The most popular sites to see the news is Yahoo News, in part because of its agreement with ABCNews, followed by The Huffington Post, which has risen from fourth to second place. The New York Times lost three places in the ranking.
The HuffPo is clearly the world's first content aggregator (reproduced stories in September: 2531), and the web site is benefiting from its interactions with Facebook and Twitter.  It is followed by Dailymail.co.uk (1715), Yahoo.com (1668) and bbc.co.uk (1621).
Digital advertising revenues
In 2011, digital advertising revenues (23% of all advertising sector in the United States, up 3 points from 2011)  were exceeding advertising revenues from newspapers.   In 2016, Digital Advertising could reach 29% of the total. Although mobile advertising revenues grew by 80% compared to 2011, it only accounts for 7% of the total. According to eMarketer, in three years, it should account for 21% of total advertising revenues.
One of the problems of digital advertising media is that 64% of total revenues are concentrated in only five companies: Google, Yahoo, Facebook, Microsoft and AOL.
Video advertising grew by a huge 47% in 2012. 38% of those surveyed by Pew Research said they used their tablets to watch video once a week, 12% watch: daily. Video is already the second type of advertising, but it will compete more effectively with the banner in the coming years.
Advertising revenues of the press fell last year to $22.5 billion, with $3.3 billion consisting of online advertising (15% of total). However, for every 15 dollars lost in press advertising, online only earned one dollar.
Moderate optimism
For the first time since the crisis of 2007, the newspaper industry appears to have stabilized.   Of the 1,380 daily newspapers, 450 plan to adopt paid content plans, which together with rising paper prices and increased subscriptions, have helped stabilize the situation caused by the declining advertising.  Newspapers are cutting the number of days of publication per week, while reducing paper newsrooms, for online expansion.
For more information see: http://stateofthemedia.org/2013/overview-5/key-findings/
Louis Rhéaume
Infocom Analysis
Louis@infocomintelligence.com
Twitter : @InfocomAnalysis