RIM
June 3, 2013

Source: Infographic by Top Apps

Louis Rhéaume
Editor
Infocom Analysis
March 27, 2012
[Published originally on MONDAY, JANUARY 23, 2012]
 Our new article about Research in Motion is available on Seeking Alpha:
March 27, 2012
[Published originally on WEDNESDAY, NOVEMBER 23, 2011]
My new article "The battle of smartphones manufacturers" is now available on Seeking Alpha.
http://seekingalpha.com/article/309935-the-battle-of-smart-phones-manufacturers
Louis Rhéaume
Infocom Intelligence
louis@infocomintelligence.com
Twitter: @InfocomAnalysis
March 27, 2012
[Published originally on October 17, 2011]
There is an interesting article on the NY Times on Research and Motion new development initiatives. They will present this week a conference where they have to persuade critical applications developers to create new apps for the new generation of Blackberry that will use a more capable operating system known as QNX (pronounced CUE-nix) and for the tablet PlayBook. One problem with the Playbook is that there are few apps available now.
http://www.nytimes.com/2011/10/17/technology/research-in-motion-pins-hopes-on-its-next-os.html?src=un&feedurl=http%3A%2F%2Fjson8.nytimes.com%2Fpages%2Ftechnology%2Findex.jsonp
Louis Rhéaume
Infocom Intelligence
louis@infocomintelligence.com
March 27, 2012
[Published originally on WEDNESDAY, MARCH 02, 2011]
With the exponential growth in the smartphone and tablet sales, applications should reach $38 billion by 2015. The market exists only since four years, with the launch of the iPhone. They are competing now with Google's Android Market, Microsoft's Apps Marketplace, BlackBerry's App Place and HP's Palm App Catalog. Apple's iOS platform, offers apps for the iPhone, iPod Touch and iPad, has around 350,000 apps. In 2010, mobile applications accounted for $1.7 billion in revenue globally. Mobile apps downloads jumped from 300 million in 2009 to 5 billion in 2010.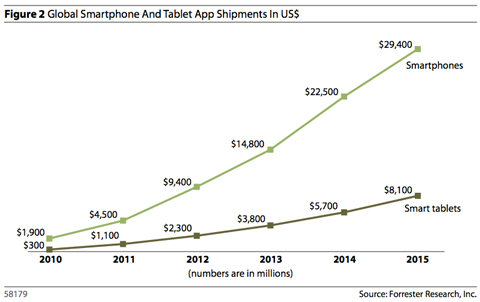 Apps are forecasted to become more ubiquitous like the GPS application on smartphones, or the new Near-field communication technology. By 2015, app sales for tablet devices alone are expected to reach $8.1 billion — way up from the roughly $300 million generated by tablet apps in 2010.
Forrester predict also that apps will push a new era of cloud computing, where content is stored online and accessible across multiple devices at any given time. Apple should lose important market share in apps in future years, but will still experience decent growth in apps revenues.
Louis Rhéaume
Infocom Intelligence
louis@infocomintelligence.com
March 27, 2012
[Published originally on MONDAY, JANUARY 31, 2011]
The technology adoption of some new communications innovations have increased exponentially in recent years.  The following graph shows that while it took around 75 years to the fixed line to reach 50 million customers, it took only 12 years to the mobile phone, 5 years to the iPod,  4 years to the e-mail and only 3 years to the Skype's VoIP software.  It can be explained by the fact that several communications networks are already in place and new innovations can leverage existing infrastructure.  Another reason is the fact that communications consumers are more "technology educated" than before.  The fastest growing tech firm at the convergence of social networks, and mobile commerce is Groupon, which has reached 2 billion in revenue in two years of existence and the key mark of 50 million subscribers.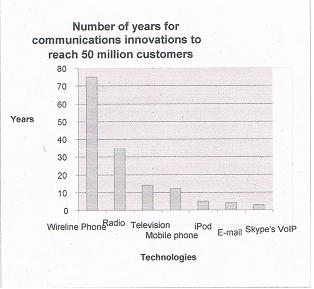 Source: debitel
A recent report by In-Stat indicates that smartphones are becoming the "standard" in mobile devices. Particularly the demand for advanced mobile handsets that contain significant processing power, robust memory, large screens and open operating systems will drive the sales of mobile manufacturers.
Their forecast is that unit shipments of smartphones will be nearly 850 million by 2015. Among the critical factors for the smartphone success, there are powerful browsers, a wide variety of apps, easy to navigate user interface, and a good keyboard or touchscreen. Furthermore, other intangible attributes, such as being "fashion object" and that "your friends or relatives have one" are also important.
In-Stat also predicts that the majority of U.S. handset shipments will be smartphones by 2012 while Android would maintain its momentum and will continue to be the leading OS.  In-Stat suggests that by 2015, over two-thirds of smartphones will still be WCDMA-based, with LTE smartphones representing only a small minority of annual handset shipments, even in four years.
What other communications devices will reach the fastest 50 million users?
Tablets represent a challenger with the penetration in the business sector. According to Gartner, nearly 20 million tablets have been sold in 2010, and around 54.8 million will be in 2011 and it should reach 208 million in 2014. In addition to Apple iPads, tablets include those based on Android, RIM, WebOS and other such operating systems. It appears that Apple iPads and other tablets are cannibalizing e-readers, gaming devices, and mini-notebooks.
 "Mini notebooks will suffer from the strongest cannibalization threat as media tablet average selling prices drop below $300 over the next 2 years," says 
Carolina Milanesi, research vice president at Gartner
. Gartner suggests that the North American market will account for 61% of the total market this year but that the percentage will fall to 43% in 2014 as tablets become more widely available across the world. More than half of tablets sold in 2010 supported WiFi.
It appears that Android tablets are gaining interesting market shares over iPad in the last quarter.  They gained 22% of the Q4-2010 market.  The iPad had 95% and decreased to 75%.   Galaxy, Samsung's tablet with Android is the main contender for the iPad. Strategy Analytics forecast that Apple's iPad will decrease below 50% market share in the next 2 years.
Growth opportunities
·         Firms which should heavily benefits from the growth of tablets are:
o   online publishers (the ones who will bet on e-Books growth and sell directly to the public: i.e. Amazon)
o   devices manufacturers (Apple, Samsung, RIM)
o   technology suppliers (Tech SMEs, Publishing Technology plc)
Google just bought eBook Technologies 3 weeks ago.  It provides an end-to-end electronic book platform offering a full range of eBook products and services. It includes electronic reading devices, an online bookstore where readers can buy eBooks, an online "bookshelf" that lets users store their purchased content, and software that converts content to the company's eBook format.
·         Some experts suggest that new entrants in the tablet market should appear such as Amazon. If it is the case, Amazon would enjoy growth again as an online publisher and manufacturer, which it is already doing with the Kindle.
Louis Rhéaume
Infocom Intelligence
louis@infocomintelligence.com
March 27, 2012
[Published originally on WEDNESDAY, NOVEMBER 17, 2010]
In mobile platforms all the hype actually is on Apple and Android (Google).  Their market shares are rising quickly in the US.   For the CEO of Apple Steve Jobs, ""We've now past RIM, and I don't see them catching up to us in the near future."
Balsillie co-CEO of RIM answered: " The implication being that RIM practically invented the smartphone category and is not going anywhere."
RIM has a different attitude toward web apps than Apple. There may be 300,000 apps for the iPhone and iPad, but according to RIM CEO, the only app you really need is the browser. "You don't need an app for the Web," he says, and that is equally true for the mobile Web. Blackberry is betting heavily on the Web, similarly to Google.
Positive aspects:
-New RIM mobile ad network :  good potential.
-New potential of Playbook blackberry tablet; cheaper than the iPad, but 3 to 4 times faster than the iPad. It will be launch at the beginning of 2011 and support Flash applications.
-Potential in new emerging markets: RIM smartphones are better value with BB messenger : free real-time SMS and lower cost of smartphone.  In Latin America and several part of the globe, the majority of users are prepaid users who can't benefit from subsidies on the smartphone or from  long-term contract.
Negative aspects:
-RIM position on development of apps.   For co-CEO Balsillie, people prefers mobile web to native apps.  When the difference is un-significant it is true, but unfortunately it is not always the case.  One big example: www.youtube.com on mobile doesn't play all your videos.  The free app plays videos of the day but you can't search that you want in the library.  The $2.99 native app let you play the videos of your choice.
-RIM is losing market share mainly in the US over Apple and Android.
Outlook
Even with global market share shrinking slightly the stock is cheap, so the short term potential is good.  Will RIM be a major brand and mobile platform in 10 years? I'm not so sure in the US for the consumers sector but it will remain an important player in the business sector.  However, the company has competitive advantages in the emerging markets. It offers a good ratio quality/price for these customers.
With a P/E ratio of 11.1, the stock seems cheap. The global smartphone market is growing quickly.
Apple P/E ratio is 19.91, less if you consider the $51 billion in cash and has the momentum, but the question is can it maintain its higher valuation in the medium and long term?  I remember my economist teacher who said 14 years ago that in the tech sector, you can't hold many tech stocks for the long term.  You have to trade more often.  2 stock crashs later he had a good point.
Apple's mobile ecosystems growth are remarkable (you can see the second graph), but the valuation of the firm is actually taken that into account. RIM valuation is not taking completely into account all of these growth factors.
Louis Rhéaume
March 27, 2012
[Published originally on SUNDAY, NOVEMBER 07, 2010]
It appears that RIM web usage is growing, which is not the case of Apple's iPhone OS web usage. In fact, Blackberry users have 
doubled
 their Web presence over the course of the past year.
The data is from Statcounter:
Although the chart clearly shows Android's rise in terms of Web usage, it surprisingly shows Blackberry's increased market share, too.
It appears that RIM should not be discarded as as serious contender in the corporate and consumer sector. However, increased Web usage only shows that RIM users are doing more mobile Web surfing, not necessarily that the platform as a whole is making a comeback, but the new Blackberry OS (
version 6
), available now on the 
Blackberry Torch
, offers a much-improved Web browser based on the open-source WebKit technology, the same technology that's used on the iPhone and on Android. Thus, we can expect more Blackberry devices in the future, and Blackberry users' Web usage will certainly grow even more.
For developers targeting Blackberry users with mobile websites or services as opposed to native applications, this increase in browsing are good news. But if you're looking to get the most return on investment for your native applications, you still need to look at the raw 
numbers
 of native application users on the top mobile platforms.  Android has the biggest momentum and most attractive ROI per app.
Louis Rhéaume
Infocom Intelligence
louis@infocomintelligence.com