trend
September 29, 2013
Here are 50 statistics on tech trends by Vala Afshar.
Louis Rhéaume
Editor, Infocom Analysis
louis@infocomintelligence.com
July 25, 2013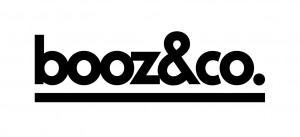 A new report by Booz & Co provides a ranking of the top ICT 50 global firms and the digitization ecosystems.  It appears that IBM is at the top, followed by Oracle and Microsoft.
"Businesses around the world are looking to gain an edge in the race to digitize—to seamlessly incorporate new computing, communications, and collaboration technologies; to streamline their operations; and to connect more closely with customers, suppliers, and partners. To do so, they must look to the continually evolving ecosystem of hardware, software, IT services, and telecom companies. These sectors provide the products and services that make digitization possible.
Booz & Co looked at them across four critical criteria: financial performance, portfolio strength, go-to-market footprint, and innovation and branding.
"Every company in every industry has its own market value proposition: a way to play that represents the way it chooses to create value in the market, ideally matched with its strongest capabilities. Companies' ways of playing can be grouped according to the basic foundational approach they take. By classifying each of the ICT 50 as one or more of these "puretones," we were able to determine which value propositions seem most advantaged in the market—for now.
To see the report go to their web site.
Louis Rhéaume
Editor, Infocom Analysis
louis@infocomintelligence.com
June 8, 2013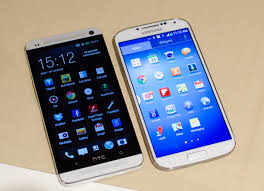 Venture capitalist Marc Andreessen is known to have popularize the sentence: "Software is eating the world". Thus, some start-ups based on a new software are  disrupting whole sectors, like AirBnb with the hotel industry.
Benedict Evans, an Internet Analyst, has come up with a new report with the title: "Mobile is eating the world".  He has some interesting conclusions that
mobile is now changing everything,
the technology and mobile sector are converging
tablet growth is accelerating quickly
The whole presentation is available at:  http://fr.slideshare.net/bge20/2013-05-bea
Louis Rhéaume
Editor
Infocom Analysis
October 28, 2012

The  18th World Congress on Information Technology (WCIT 2012) was held in Montreal.  Larry King was the moderator of a panel composed of nine experts in the information and communication technologies industries (ICT).  They shared their visions on the impacts of the digital economy.
The digital economy is enabling governments to empower their citizens. For Ivo Ivanovski, Minister of Information, in the Republic of Macedonia, "Our citizens are our real resources.  We are becoming more transparent with the use of electronic services and mobile services.  Thus, we are becoming more productive and cutting the waiting time for services. In the future, all governments will be connected to their citizens through mobile services".
With Moore's law, microchips are doubling in capacity every 18 months.  Microchips are getting smaller and with increased processing, almost everything will become a computer. Human aspirations and imaginations are the only limits, said Brian David Johnston, a researcher from Intel.  Using the technology at the right time and at the right place to solve business and consumers problems is critical, suggests Vivek Ranadivé, CEO of TIBCO Software.  For him, the context, more than the information will be king in the future.  Content has to find its right place in the right context.  "We need to use actual information to resolve humankind problems such as health or water shortage."
The World Wide Web is now at his fifth generation.  The Internet network and appliances are certainly going to change but not the information system of the WWW, proposes Robert Kahn, co-founder of the Internet and manager of the Corporation for National Research Initiatives (CNRI).  He pinpoints that in the digital economy some very important issues are private life and security.
Digital is as turbulent for media, as online music has been on the music industry.  IP technology is empowering consumers and enterprises and reduced their barriers of entry, according to Kevin Crull, Bell Media president.  Content creation is still very important, even though the user experience and availability of content has been improved by the suppliers of services. Mr. Crull is excited and is also afraid of the fast adoption of real-time content on mobiles devices. "The ICT sector is creating new business models, while some are also disappearing quickly."
Mobile phone is a powerful education tool helping literacy around the world with mobile learning and practices.  It can also reduce crimes and protect journalists in some parts of the world, pinpoints Philippe Kridelka, director for UNESCO.  The digital economy is based on information management and collaboration suggests Mark Aboud, Senior Manager, SAP.  "We need to leverage the intellectual capital at diverse places and use it to create new things."
Louis Rhéaume
Infocom Analysis
louis@infocomintelligence.com
Twitter: @InfocomAnalysis
April 25, 2012
The article written by Chris Anderson, Wired editor in chief about "The Man Who Makes the Future: Wired Icon Marc Andreessen" is the best article I read so far in 2012.  It covers venture capital, major internet technological trends of the past two decades, strategy and finance.  Andreesen saw five Internet trends before most experts.
1- 1992, Everyone Will Have the Web
2- 1995, The Browser Will Be the Operating System
3-1999, Web Businesses Will Live in the Cloud
4- 2004, Everything Will Be Social
5- 2009, Software Will Eat the World
"In 2009, Andreessen and his longtime business partner, Loudcloud cofounder Ben Horowitz, created a venture capital firm called Andreessen Horowitz. Their vision today: an economy transformed by the rise of computing. Andreessen believes that enormous technology companies can now be built around the use of hyperintelligent software to revolutionize whole sectors of the economy, from retail to real estate to health care."
Andreessen Horowitz is one of the most successful VC tech firm in the world.  They made numerous home-runs investments such as Skype, Facebook, Groupon, Zynga, Twitter, Airbnb and Foursquare.
Andreessen Horowitz's investments span the mobile, gaming, social, ecommerce, education and enterprise IT (including cloud computing, security, and Software as a Service) industries.
Louis Rhéaume
Infocom Intelligence
louis@infocomintelligence.com
Twitter: @InfocomAnalysis
March 27, 2012
[Published originally on THURSDAY, MARCH 22, 2012]
Every business needs to "go digital." Data about customers, competitors, suppliers, and employees are actually exploding. Ninety percent of all data were created in the past two years. By 2016, there will be 3 billion Internet users globally, and the Internet economy will reach $4.2 trillion in the G-20 nations.It appears that no company or country can afford to ignore this phenomenon. Scale and speed of change are altering industry structures and the way that companies do business. Farsighted companies, even ones in traditional industries, can separate the signals from the noise and create new sources of advantage by adopting digital strategies. For BCG, The "new" Internet is different in many ways from the old Internet. Here are 6 reasons followed by my comments
1-Its center of gravity is shifting. The Internet has become interactive and participatory. It is moving from fixed access to ubiquitous access. No longer limited to developed markets, it is growing by leaps and bounds in emerging markets, as well. And these countries are increasingly driving innovation.
Emerging countries are embracing digital innovations. A country like Kenya is a world leader in term of growth of the digital wallet.
2-It is now an "Internet of everything." IBM predicts that 1 trillion devices will be connected to the Internet by 2015. The Internet of everything can radically change the ways companies interact with customers and run their supply chains. It also allows new entrants to attack the foundations of traditional industries.
It is a case of disruptive innovation as analyzed in the book Innovation Dilemma by Clayton Christensen.
3-It is about ecosystems. The Internet is increasingly being shaped by ecosystems orchestrated by companies such as Amazon, Apple, Facebook, and Google, but also by companies such as Baidu and Tencent in China and Yandex in Russia.
Complementors are increasingly important in the digital economy because of the presence of networks effects and switching costs. A good book on that issue is the Network Economy from Hal Varian and Carl Shapiro.
4-It is generating tremendous economic value. Across the G-20 nations, the Internet economy amounted to 4.1 percent of GDP, or $2.3 trillion, in 2010, larger than the economies of Italy or Brazil. In some leading economies, it is contributing up to 8 percent of GDP, powering economic growth and creating jobs.
The growth of the global ICT sector is one of the main drivers behind the growth in GDP of several economies
5- It has gone local. The Internet experience has become an ingrained feature of everyday life, reflecting national characteristics as well as economic, political, and social influences specific to individual countries.
In several countries mobile Internet through SMS, mobile app chat, smartphones, tablets and Wi-Fi has developed a culture of instantaneous conversation. Consumers and businesses are developing a dependency toward the mobile Internet. The negative aspect is that people expect rapid answers and decisions.
6- A new generation has grown up on the Internet. The "Millennials" have vastly different expectations as employees, consumers, and citizens. The Arab Spring protests and grass-roots "occupy" movements in the West are only the most visible manifestations of the power of the Millennials to shape society and commerce.
People less than 40 years old have grown up with several technologies: computers, Internet, video games, cellphones. For them these technologies are already user-friendly. A new generation of Internet entrepreneurs is growing quickly in emerging countries.

Consequences 
BCG argues that these developments have four consequences for companies and policymakers alike.
1- Companies need to understand and strengthen their "digital balance sheets." In an increasingly digital world, companies need to build their digital assets and reduce the digital liabilities, often organizational, that limit their ability to tap rich opportunities.
Companies must develop digital competencies to create new products and services.
2- Many companies require a digital transformation. Most will need to improve their people, processes, and organizational structures and adapt them to the digital world. Given the rapid pace of change and the intensity of competition, they will need to move away from long-term planning cycles and toward adaptive strategy setting.
Innovation is a main issue for many firms around the world. In order to create value, managers must use a good mix of internal growth and growth by acquisitions and incorporate a digital strategy in their business model.
3- Governments can help shape the digital economy. They can support policies related to investment, innovation, education, consumer protection, and privacy. In many areas, they should recognize that a hands-off approach is the best option.
Countries such as South Korea have largely promoted ICT and are now world leader in high-speed Internet
4- More than 15 years after the rallying cry was first heard, the Internet really is "changing everything." As Walter Wriston, the legendary leader of Citibank, said in the 1980s, "Information about money has become almost as important as money itself." That is true for every business today.
I can also add we now have an information overload. Analysts and web sites that help people to separate the wheat from the chaff in information are becoming more important than ever.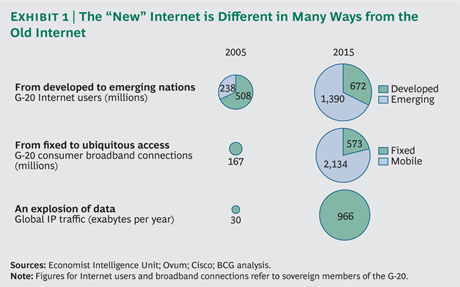 The growth
In the G-20 nations, the Internet economy will grow more than 10 percent a year through 2016, according to a new report published by The Boston Consulting Group (BCG) as part of its Connected World series.
In the developed markets of the G-20, the Internet economy will grow approximately 8 percent annually; in the developing markets, it will grow more than twice as fast—at an average annual rate of 18 percent. Argentina and India will grow the fastest, at 24 percent and 23 percent a year, respectively. The leading developed markets—Italy and the U.K.—will grow about 12 percent and 11 percent a year, respectively.
BCG projects that the Internet economy will contribute a total of $4.2 trillion to the G-20's total GDP in 2016. "If it were a national economy, it would rank in the world's top five, behind only the U.S., China, India, and Japan, and ahead of Germany," said David Dean, BCG senior partner and a coauthor of the report.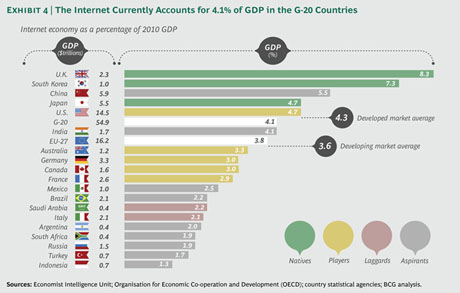 Source : https://www.bcgperspectives.com/content/articles/growth_innovation_connected_world_digital_manifesto/
Louis Rhéaume
Infocom Intelligence
louis@infocomintelligence.com
Twitter: @InfocomAnalysis